When the Add Lab Analysis button on the Station form is clicked the Add Lab Analysis form will be displayed. This form is used to add default lab analyses to be conducted on samples from the station.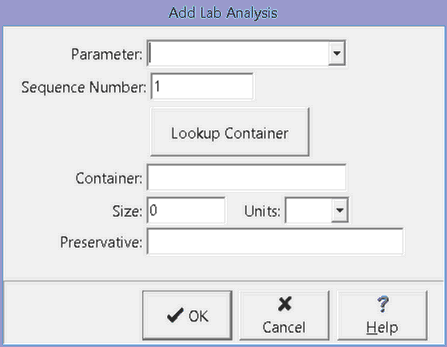 The following infomation can be specified on this form:
Parameters: This is a group or parameters or individual parameter to be analysed.
Sequence #: Sequence numbers are used when more than one lab analysis is done on a sample.
Container: This is used to specify the type of container used for the sample. The Lookup Container button can be used to lookup the recommended container, container size, and preservative for the parameter group to be analysed. As described in the Lookup Containersection.
Container Size: This is the size and size units of the container used for the sample.
Preservative: This is the preservative used for the sample.