To license and unlock a module, select the module then click on the Register button at the top of the License Manager form. After the industry has been selected for some modules, the Unlock form will be displayed.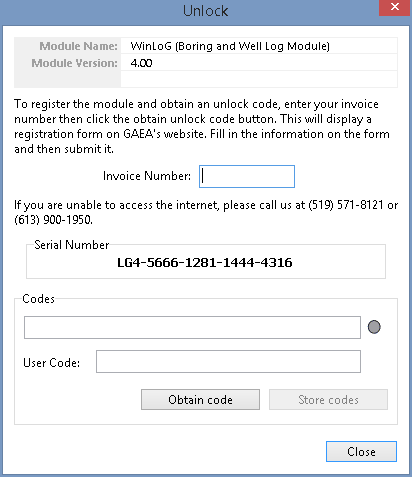 This form displays the unique serial number for the module that is based on the specific computer hardware that it is installed on. The network and user unlock codes are based on this unique serial number and invoice number. To obtain the unlock codes, fill in the invoice number and click on the Obtain code button. This will take you to a form on the GaeaSynergy web site that can then be filled out and sent to GAEA for the codes. After we receive the request we will email you back the codes. If you would prefer to contact us directly for the codes you can email us at support@gaeatech.com.
After you receive the codes from GAEA, enter them on the form along with the invoice number and click on the Store codes button. You must enter the correct invoice number for the codes to work.